Jana Sudhar Lower Secondary School, which was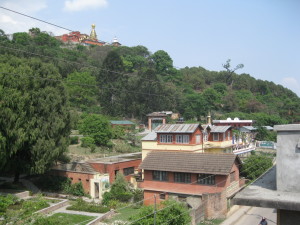 established in 1956, is situated in the metropolitan area of Kathmandu called Swayambhu, at the foot of the famous Monkey Temple, approximately 4km west of the city centre.
Although the school receives some funding from the Government, the school buildings, grounds and facilities are hopelessly inadequate for the number of pupils, currently about 210, who attend the school.
The pupils who are between 5 and 13 years old come from low income families who have no other alternative to provide their children with a basic education.
Despite such obstacles, the staff, who number 10 teachers in total, are highly motivated and strive to provide the best possible education for their pupils with the limited resources that they have at their disposal.