Donation of 3500 € funds emergeny shelters for four families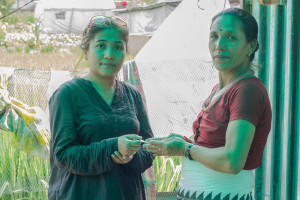 In the weeks after the catastrophic earthquakes in April and May 2015 we considered different ways to try to directly help at least some of those who had been badly affected.
When project member, and coordiator, Upendra Shrestha returned from Kathmandu in June he suggested that the most important way in which we might try to help even a small number of people would be to provide building materials, such as corrugated aluminium sheeting, to facilitate the building of simple emergency shelters.
To this end we transferred the proceeds of our school sponsored run in July and generous private donations collected by Upendra Shrestha and Matt Baker to our contacts in Kathmandu.
With these funds emergency shelters were built for four families whose homes were severely damaged by the earthquakes. In addition, building materials and blankets were distributed to others who had been affected.
Click here to see more pictures!